Music

|

February 16, 2023 12:07 EST
Centricity Music signs Natalie Layne to exclusive recording, publishing contract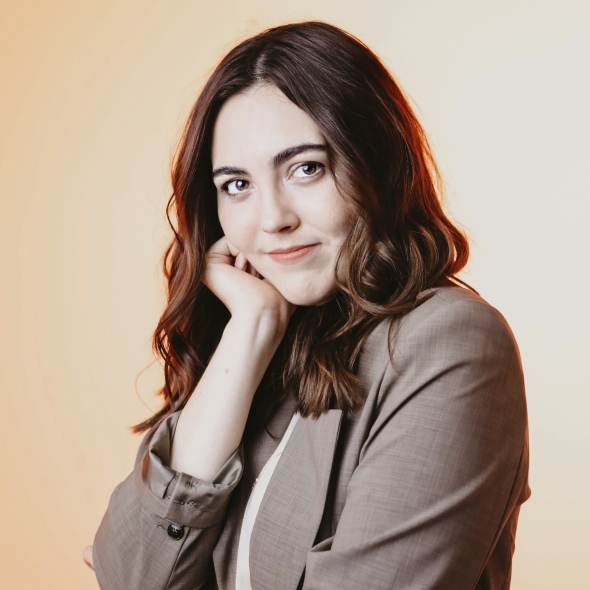 Centricity Music, the No. 1 Billboard Top Christian Albums Imprint for three consecutive years, has signed soul-inspired pop singer/songwriter, pianist and worship leader Natalie Layne to an exclusive, worldwide recording and publishing contract.
From Colorado Springs and currently residing in Nashville, Layne's latest independent single, "Love Me Back to Life," has gained millions of views on Instagram Reels and on TikTok where she has over 197,000 followers and 2.8 million likes on her videos. The single follows her 2021 Castles EP and 2020 independent debut Be Human that have garnered attention worldwide. The music led to opening concerts for Jeremy Camp, Chris Tomlin and We the Kingdom, as well as sharing stages at festivals with Steven Curtis Chapman, Mandisa and Crowder.
"He's the God of dreams. Unbelievably excited to share that I've signed a record deal with Centricity Music after getting to know their team over the past three years," Layne shares on Instagram.
"I've been telling our team for a long time that Natalie was an absolute force of talent and one of the most gifted artists I've come across," says John Mays, Centricity Music's Senior Vice President, A&R. "At our recent indie artist retreat, we discovered that her level of talent is exceeded only by her heart for God and love for people. We're fortunate to be able to partner with Natalie and are excited to play our role in getting her music to the world."
"I'm so proud of Natalie to sign a record deal with Centricity!" exclaims Marcus Rixon, President, Rixon Entertainment Group. "It's been an incredible journey working with her for the past three years, and I'm confident that this partnership will be the perfect fit for her and her musical talents."
Natalie Layne is pictured signing her recording contract with Centricity Music CEO Caren Seidle.
Layne also takes a celebratory photo with Centricity Music staff and manager Marcus Rixon.
Playing in several Nashville-based R&B and jazz bands, Layne graduated with a Master's Degree in Commercial Piano from Belmont University where she also taught Fundamentals of Music classes. Writing and producing her own music, she also leads worship at her local church. She began leading worship at the age of 12 alongside worship pastors such as Cory Asbury, Jon Egan and Jared Anderson. By age 14, she was heading up teams of musicians at New Life Church and has spent time traveling across America leading worship and sharing her original songs.
With her Centricity Music debut slated for fall 2023, all the latest Natalie Layne music, tour and more news can be found at: www.natalielaynemusic.com, Spotify, Facebook, Instagram, YouTube and TikTok.
About Centricity Music:
Centricity Music is an independent Christian music company based in Franklin, TN. Founded in 2005 with a commitment to artist development and stylistic diversity, its artist roster includes Andrew Peterson, Apollo LTD, Brandon Heath, Chris Renzema, Coby James, Jason Gray, Jordan Feliz, Katy Nichole, Lauren Daigle, Natalie Layne, North Point Worship, Patrick Mayberry and Unspoken. Providing label and publishing services, Centricity is a family-owned organization. The committed work of its staff and artists has yielded successes such as Grammy Awards, Billboard Awards, Dove Awards, K-Love Fan Awards, and multiple Gold and Platinum Albums and Singles. For more Information on Centricity Music, visit https://centricitymusic.com/.