Events

|

April 12, 2022 10:31 EDT
GRAMMY Award-winning Brandon Lake announces fall headlining tour "Miracle Nights"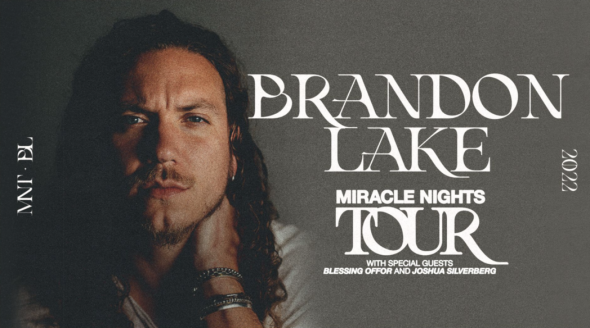 NASHVILLE, TN / COSTA MESA, CA - GRAMMY® Award-winning artist and songwriter Brandon Lake will head out on his much anticipated headlining tour this fall. Known for many of his collaborations with Maverick City Music and others, Brandon Lake will visit 12 cities this fall with special guests Blessing Offor and Joshua Silverberg. "The Miracle Nights Tour" will feature many of his popular songs, including "Graves into Gardens," "Too Good To Not Believe," and "Gratitude."
"Headlining my own tour has been a dream in my heart for a very long time, although I don't know that it's anything I ever asked God for because I didn't believe it was possible," shares Brandon Lake. "But look at God! Through writing song after song over these past ten years, I now have the opportunity and privilege to travel and sing these songs with you! I'm calling this tour "MIRACLE NIGHTS" because I believe that expectancy is the breeding ground for miracles. I'm not here to entertain—I want an encounter. I want YOU to be encountered by the wonder-working God I've come to know so personally. And to ensure we have an incredible night, I'm bringing two profoundly gifted and anointed songwriters and powerhouses of the faith, Blessing Offer and Joshua Silverberg. These will be twelve nights you do NOT want to miss."
"These 12 nights are going to be amazing! I'm so happy to be supporting my brother Brandon on his first headlining tour," states Blessing Offor. "Can't wait to meet you all on the road!"
Additionally Joshua Silverberg shares, "Let's come together and give ourselves to a special kind of worship - believing He is mighty to save, heal and deliver!"   
Don't miss this Dove Award-winning and GRAMMY Award-winning worship leader bringing together different communities for these special evenings. Tickets can be purchased now here.
10/7/22    Bayside Church | Granite Bay Roseville, CA
10/8/22    Rock Church | San Diego, CA
10/9/22    Seacoast Grace Church | Orange County (Cypress), CA 
10/14/22  Gateway Community Church | Houston (Webster), TX 
10/15/22  Oak Hills Church -Crownridge Campus | San Antonio, TX 
10/16/22  College Park Center | Dallas (Arlington), TX
11/4/22    Reardon Auditorium - Anderson University | Anderson, IN
11/5/22    The Naz Church | Columbus (Grove City), OH 
11/6/22    Calvary Church | Naperville, IL 
11/18/22  Bell Shoals Church | Tampa (Brandon), FL 
11/19/22  Christ's Church | Jacksonville, FL 
11/20/22  Seacoast Church | Charleston (Mount Pleasant), SC
ABOUT BRANDON LAKE: Brandon Lake is a GRAMMY Award-winning artist and songwriter from Charleston, South Carolina. He released his debut album, House Of Miracles, in 2020. For Lake, House Of Miracles is more than an album; it's the prayer of his life; his prayer is that every home in the world would become a house of miracles. The songs were written to be conduits of hope for everyone who listens. He has been nominated for five GRAMMY Awards and recently won his first GRAMMY in 2022 for "Best Contemporary Christian Music Album" for Old Church Basement. He was nominated and awarded the 2021 GMA Dove Award for "Songwriter of the Year," as well as for "Worship Recorded Song of the Year" for "Graves Into Gardens." Lake and Tasha Cobbs Leonard co-wrote "This Is A Move," a song that won a 2019 GMA Dove Award for "Gospel Worship Recorded Song of the Year" and was nominated for a 2020 Grammy Award. He believes that the people of God should be the freest people on the planet, and he is passionate about releasing joy and excitement while pursuing the presence of God in worship.
ABOUT BLESSING OFFOR: The youngest of six siblings, the Nigerian-born singer/songwriter immigrated to the United States with his uncle at the age of six. Born blind in one eye, Blessing's parents sent him to the United States in an effort to restore his vision, though unfortunately, he lost his complete eyesight by age 10. Gravitating toward the piano before losing his vision, Blessing's school teachers helped nurture his talent, and he soon found himself at Belmont University honing his craft in Music City. Hints of pop, Motown, and soul flourish across Blessing's music as he sings of optimism, hope, and finding silver linings in dark clouds. Blessing's seven-song EP Brighter Days is out now via Chris Tomlin's Bowyer & Bow imprint in partnership with Universal/Capitol Christian Music Group.
ABOUT JOSHUA SILVERBERG: Meet GRAMMY-nominated producer and hit songwriter, Joshua Silverberg. The Long Island native, who now resides in Nashville, TN with his wife Michaela and two children, Zoe and River. His work can be heard on many major films and TV shows and also sung by some of the most well known CCM and Worship Artists such as Brandon Lake, Jon Foreman, Jordan Feliz, Kari Jobe, Chris Quilala, Matt Redman, The belonging.co, Jesus Culture, Michael W Smith, Mosaic and Bethel Music. But.....much much more than the music... What he loves most is watching Jesus set people free. When he started to pursue all the words of Jesus, he found himself in a life of miracles. In an over-the-phone prayer with one of the worship leaders from Seacoast Church, Micah was completely healed of a debilitating autoimmune disease. Shortly after he was invited to help lead his first Miracle Service at that same church, Seacoast Church (Charleston SC). That night he was changed forever, and hundreds claimed they were healed by Jesus. The Bible says "signs and wonders will follow them that believe''. Although not a pastor, or in "full-time ministry" Joshua does believe that all Christians are invited to live a naturally supernatural life.
ABOUT TRANSPARENT PRODUCTIONS: For over two decades, Transparent Productions has been one of the largest producers of Christian concerts, tours, and festivals across the U.S. in churches, theaters, arenas, and amphitheaters. In 2022 the company will produce nearly 400 dates nationwide. Visit them at www.transparentproductions.com
ABOUT UNDIVIDED: Undivided is the premier and leading entertainment firm for Christian-Gospel artists. Undivided provide its clients with management, touring, public relations, marketplace branding, and long-term strategic career consultation and planning services. Follow @UndividedEnt on social media.