BC News

|

April 21, 2022 12:37 EDT
Husband and wife duo David and Tiffany Spencer release high-velocity single "It's Already Done"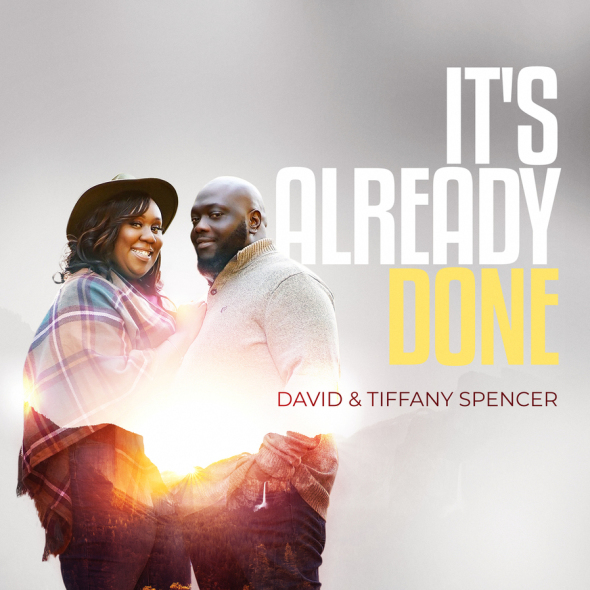 Fayetteville, NC --  David and Tiffany Spencer are a musically talented couple who share an extraordinary relationship. Happily married, they get to create and perform Gospel music together. Their unique blend is bright and warm and always conveys a message in line with their Christian values. Their love for God and each other reflects in their music.
Following their recent singles "Only You" and top 10 BDS Gospel Internet Radio hit single "We Are One", David and Tiffany return with a new single, "It's Already Done".   
Their new high-velocity song induces enthusiastic praise.  David and Tiffany vocally power pack the track and add hints of the traditional church song stylings.  "It's Already Done" encourages movement of the spirit and body, transporting listeners back to the roots of having church the ole time way.
Listen To "It's Already Done"
"I grew up in the United Holy Church, and when the spirit got high, the tambourines and washboard came out," says David. "There is not an experience like it in the world." 
"I am looking forward to sharing another side of us," Tiffany expresses. "This is our churchiest release to date."
"It's Already Done" is distributed by IndieBlue Music and is available now on all digital music outlets.  The single is also making its way on Gospel radio throughout the country. 
David and Tiffany recently were awarded the K-Sound Praise Fest Music Award for DUO Artist/Group of the year.  Their artistry is a consistent flow of excellence in music.  From contemporary and traditional to Worship and Urban Inspo, David and Tiffany represent the diverse spectrum that the genre of Gospel music yields.  No other style of music and no other couple in Gospel music possess this  attribute or bond.