Events

|

April 05, 2022 09:21 EDT
Integrity Music songwriters Mitch Wong & Dwan Hill receive GRAMMY Awards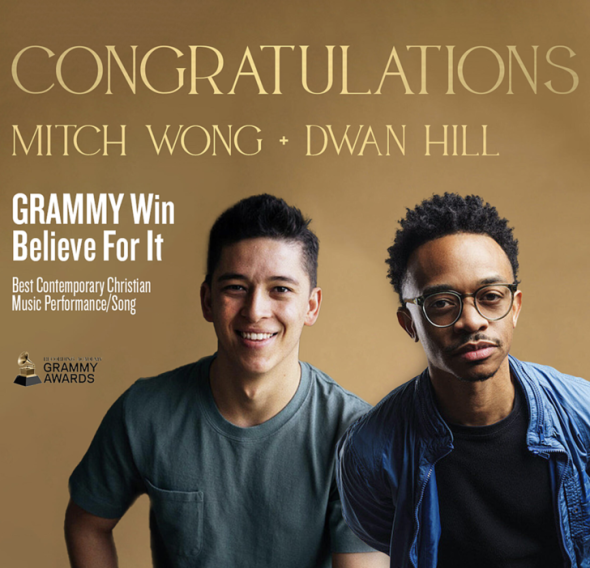 Nashville, TN - Integrity Music songwriters Mitch Wong and Dwan Hill have won a GRAMMY Award® for Cece Winans' song "Believe For It," which was also co-written with Kyle Lee and Cece Winans. They take the award home in the Best Contemporary Christian Music Performance/Song category, which was announced during the Premiere Ceremony of the 64th Annual GRAMMY Awards held in Las Vegas, NV.
Mitch Wong was also nominated for co-writing "Voice of God" by Dante Bowe. Nathan Jess, who is also an Integrity Music songwriter, was nominated for Chandler Moore's "Man of Your Word." After last year's ceremony happened online due to the global pandemic, sheer excitement, joy, and thankfulness were palpable at this year's ceremony and resounded in Mitch Wong's acceptance speech: "This song is all about belief. We believe for a better world, we believe for peace, we believe in the unconditional, no strings attached love of Jesus and we want to thank Him."
Mark Nicholas, Head of Label at Integrity Music, shares, "It is our great privilege to celebrate Mitch and Dwan's good gifts and songs, particularly 'Believe For It,' which is a resounding anthem to trust in God during precarious times. To see this song honored with a GRAMMY Award is a testament to the world's need of songs that offer ultimate hope."
Integrity Music is overjoyed to see Christian music represented at Music's Biggest Night and promises to continue to seek and release songs of substance that glorify God. The 64th Annual GRAMMY Awards were held last night, Sunday, April 3rd, 2022, on the CBS Television Network, and hosted by Trevor Noah for the second year in a row. For a full list of all the wins, visit Grammy.com.
ABOUT INTEGRITY MUSIC: Integrity Music is part of the David C. Cook family, a nonprofit global resource provider serving the Church with life-transforming materials. With offices in both the U.S. and the U.K., Nashville, Tennessee, and Brighton, East Sussex, Integrity Music is committed to taking songs of substance to the local church and its leaders around the world. 
Integrity publishes many of the top songs in the Church, including "Great Are You Lord," "Revelation Song," "Open The Eyes Of My Heart," "In Christ Alone," "10,000 Reasons," "Here I Am To Worship," "The Lion And The Lamb," "Great I Am," and "We Believe," among others. Integrity Music artists include Matt Redman, Lincoln Brewster, Darlene Zschech, Leeland, William McDowell, Paul Baloche, David and Nicole Binion, Sandra McCracken, Nashville Life Music, Selah, Thrive Worship, Local Sound, Sarah Kroger, Kees Kraeynoord, ICF Worship, InSalvation, Phil Thompson, Village Lights, Tim Timmons, Mission House, among others. 
Additional information is available at integritymusic.com.