Artists

|

July 22, 2018 10:40 EDT
TobyMac & DiverseCity Band Announces One-Of-A-Kind "The Theatre Tour" Featuring Special Guest Ryan Stevenson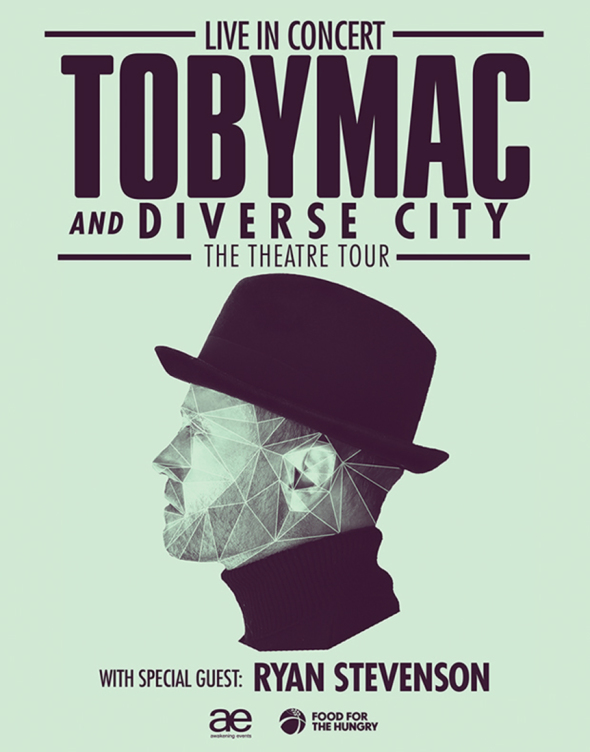 Multi-platinum selling artist and producer TobyMac is announcing the "TobyMac & DiverseCity Band: The Theatre Tour," featuring special guest Ryan Stevenson. Sponsored by Food for the Hungry, the tour is scheduled to visit twelve cities and promises fans a one-of-a-kind concert experience.
"The Theatre Tour" will offer fans an unprecedented, intimate music experience during its stops along the East Coast and Midwest, including concerts in Texas, Virginia, Ohio, Pennsylvania, Louisiana, and more. TobyMac's headlining "HITS DEEP Tour" sold out 18 arenas earlier this year, including Sacramento, St. Louis, Phoenix, Denver, Grand Rapids, Minneapolis, and San Antonio, drawing an 11,000 crowd at Portland's Moda Arena alone.
Sponsor Food for the Hungry has been fighting poverty through purposeful relief and development for over four decades. Each night, they will provide fans the opportunity to help the organization in their mission of providing life-changing resources such as clean water, medical aid, food, equal educational opportunities to girls and boys, vocational training and empowerment in the midst of unimaginable hardships.
On Wednesday, TobyMac also released his latest single, "Everything." Penned by the seven-time Grammy-winner himself, the song is going for adds at radio on Aug. 10.
Tickets will go on sale on Friday, July 27, and more information for "The Theatre Tour" can be found on the official tour page.
Follow BREATHEcast for the latest about TobyMac and visit his official website, Facebook, Twitter, Instagram, and YouTube.
"TobyMac & DiverseCity Band: The Theatre Tour" Dates:
* all dates subject to change
Thu, Nov 1       Roanoke, VA   Berglund Arts Theatre
Fri, Nov 2         Charleston, SC Charleston Gaillard Center
Sat, Nov 3        Augusta, GA    Miller Theatre
Sun, Nov 4       Richmond, KY  EKU Center for the Arts
Thu, Nov 8       Akron, OH       Akron Civic Theatre
Fri, Nov 9         Reading, PA     Santander PAC
Sat, Nov 10      Providence, RI Veterans Memorial Auditorium
Sun, Nov 11    Erie, PA            Warner Theatre
Thu, Nov 15    Lafayette, LA   Heymann Auditorium
Fri, Nov 16       Beaumont, TX Jefferson Theatre (w/o Ryan Stevenson)
Sat, Nov 17      Midland, TX     Wagner Noel Performing Arts Center
Sun, Nov 18    Shreveport, LA Shreveport Municipal Auditorium